More info
Modularity
Customize and Mount your equipment to any OMS Receiver according to your needs, without tools and within seconds.


Compatibility
Holster Insert and Molle Insert can be attached to any Orpaz accessory, including Holsters, Magazine Pouches, and Molle Pouches.


Upgrade your Molle Gear
Mount your MOLLE equipment on any OMS Receiver with the OMS MOLLE Insert.


Five different Receivers
Each receiver is specially designed to meet specific needs and gives you the freedom to rearrange your gear on different mounting points.


Locking Mechanism
A special locking mechanism secures your gear to the Receiver.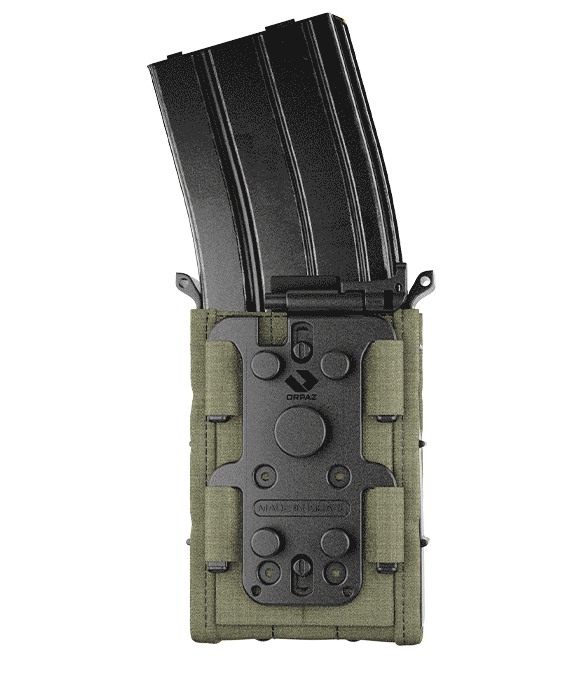 Možnosti úchytu
OMS Holster Insert

The OMS Holster Insert can be attached to any Orpaz accessory such as Holster, Magazine pouches, Law enforcement gear, etc. It will mount on any OMS Receiver and features a special locking release mechanism and adjustable cant.

OMS Molle Insert

The MOLLE Insert can be attached to any MOLLE compatible equipment and enable you to mount your MOLLE gear on any OMS Receiver. It has a special locking mechanism that keeps your gear perfectly secure and extra grip adapters that supports the insert in place.

OMS Low Ride Receiver

A specially designed ergonomic structure allows you to mount your Holster at a lower level and allows a quick draw when needed. Easily remove your Holster when Sitting or driving.

OMS Belt Loop Receiver

Fits any duty belt up to 2 inches wide and provides a minimal footprint mounting point on your belt.

OMS MOLLE Receiver

Provides a quick mounting point for attaching any accessories with OMS inserts on your MOLLE vest or belt.

OMS Leg Platform Receiver

Adjustable, secure, and ergonomic structure allows attaching any accessory with an OMS insert on your leg; move your gear from your belt to your leg to your vest within seconds.

OMS Paddle Receiver

Slightly curved to fit your body's natural shape, Attach any accessory with an OMS insert on your belt.